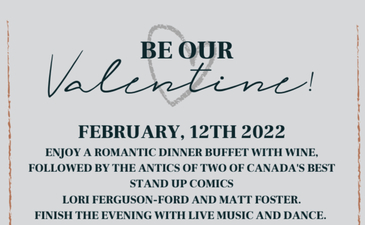 February 12, 2022 - 5:30 pm – 11:00 pm
Come Be Our Valentine!
Elkwater Lake Lodge
Elkwater
Enjoy a romantic dinner buffet with wine, followed by the antics of two of Canada's best stand up comics - Lori Ferguson-Ford and Matt Foster. Finish the evening with live music and dance.
Cocktails 5:30 to 6:00 p.m. (MST)
Dinner Buffet 6:00 to 7:00 p.m. (MST)
Show Time 7:00 p.m. (MST)
Tickets $99.00 plus GST. "Take the Elevator Home" - receive 20% off your stay when booked with ticket purchase.
Call (403) 893-3811 to inquire.
Our Cypress Hills Destination map will help you navigate to all the attractions in Cypress Hills.
View Area Map
Our Insider's Guide is the 
go-to source of what's happening
 in Cypress Hills.
View Insider's Guide
Our Partner Directory provides you direct access to all of our partners.
View Partner Directory