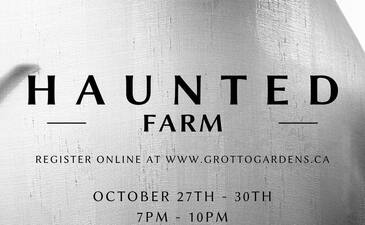 October 27, 2021 – October 30, 2021
Grotto Gardens' Haunted Farm
Grotto Gardens Country Market
Maple Creek
Prepare to be frightened at Grotto Gardens' Haunted Farm.
Oct. 27 - 30th
7pm to 10pm
Register online at www.grottogardens.ca
( Check out the earlier event for those not up to such a scare)
Our Cypress Hills Destination map will help you navigate to all the attractions in Cypress Hills.
View Area Map
Our Insider's Guide is the 
go-to source of what's happening
 in Cypress Hills.
View Insider's Guide
Our Partner Directory provides you direct access to all of our partners.
View Partner Directory