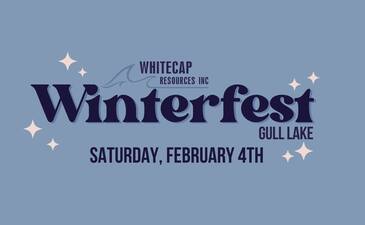 February 4, 2023
Gull Lake's Whitecap Winterfest
Town of Gull Lake
Gull Lake, Sk
A fun filled day for the entire family - celebrating all of the great outdoor and indoor activities available during the winter months in Saskatchewan!
9AM PANCAKE BREAKFAST
11-4PM:
CROSS COUNTRY SKIING
SNOW SHOEING
SLEDDING
BONFIRE
PIE EATING CONTEST
FACE PAINTING
DRAW TO THE BUTTON
CARDS AND GAMES
KIDS ENTERTAINER
5-7PM:
FOOD AND DRINK FAIR
BEER GARDENS
7-2AM:
BEER GARDENS
LIVE MUSIC AND CABARET
8PM:
FIREWORKS
Schedule subject to change*
Thanks to our SPONSOR - Whitecap Resources Inc
Questions? Contact Gull Lake Town Office
Our Cypress Hills Destination map will help you navigate to all the attractions in Cypress Hills.
View Area Map
Our Insider's Guide is the 
go-to source of what's happening
 in Cypress Hills.
View Insider's Guide
Our Partner Directory provides you direct access to all of our partners.
View Partner Directory