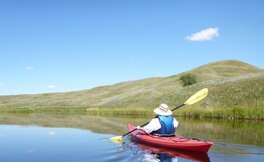 July 17, 2021
Parks Day
Grasslands National Park
Grasslands National Park
Celebrate Parks Day as you soak up the sounds and sights along the Frenchman River on a guided kayak tour.
Our Cypress Hills Destination map will help you navigate to all the attractions in Cypress Hills.
View Area Map
Our Insider's Guide is the 
go-to source of what's happening
 in Cypress Hills.
View Insider's Guide
Our Partner Directory provides you direct access to all of our partners.
View Partner Directory