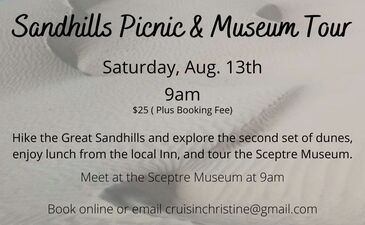 August 13, 2022
Sandhills Picnic & Museum Tour
Town of Leader
Sceptre, Sk
Join two local tourism members for a hike at the Great Sandhills, near Sceptre, Sk.
Meet at the Sceptre Museum at 9am
Car pool or follow eachother out to the Great Sandhills
Hike and explore for approximately 2 hours.
Enjoy a picnic lunch in Sceptre.
Tour the museum at your own pace.
We will have an online booking link soon, or email cruisinchristine@gmail.com to reserve a spot.
Our Cypress Hills Destination map will help you navigate to all the attractions in Cypress Hills.
View Area Map
Our Insider's Guide is the 
go-to source of what's happening
 in Cypress Hills.
View Insider's Guide
Our Partner Directory provides you direct access to all of our partners.
View Partner Directory