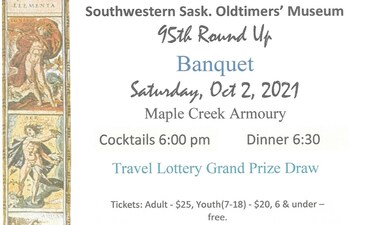 October 2, 2021
SW Oldtimers' 95th Round Up Banquet
SW Sask. Oldtimers Museum & Archive
Maple Creek Armoury
SW Sask Oldtimers' Museum is hosting their 95th Round Up Banquet
At the Maple Creek Armoury
Oct 2, 2021
6pm cocktails
6:30pm dinner
The grand prize winner of the travel lottery will be revealed!
Get your tickets from Drury Lane Fashions in Maple Creek
Our Cypress Hills Destination map will help you navigate to all the attractions in Cypress Hills.
View Area Map
Our Insider's Guide is the 
go-to source of what's happening
 in Cypress Hills.
View Insider's Guide
Our Partner Directory provides you direct access to all of our partners.
View Partner Directory