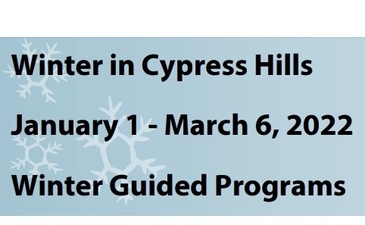 January 1, 2022 – March 6, 2022
Winter in the Hills Guided Programs
Cypress Hills Interprovincial Park - Saskatchewan
Cypress Hills Centre Block
January 1 - March 6
Fridays at 7:30 p.m.
Marvel at the Night Sky
Listen to the stories behind the stars while enjoying a warm campfire. Learn which of these legends connect to some blockbuster films. Meet at the firewood compound parking lot (across from Meadows Campground)
Saturdays at 10 a.m.
Winter Fun Basecamp
Get your heart pumping as you take part in a series of fun winter challenges and games. Meet at toboggan hill warm-up shack behind the Visitor Centre.
Saturdays at 2 p.m.
Cypress Snowshoe Hike Series on Windfalls Trail
Wander among the Lodgepole Pines on one or more of the four differently themed hikes and learn about the natural and cultural history of Cypress Hills. Snowshoes are free during this program. Pre-registration is appreciated. Meet an interpreter at the Resort entrance
Jan 1, 29 / Feb 26 - Snowdrift Stories - incredible accounts of winter survival in the hills
Jan 8 / Feb 5 / March 5 - Birds in the Hills - from beaks to tail feathers, birds are amazing
Jan 15 / Feb 12- Ice Age - explore the park's Ice Age connections
Jan 22 / Feb 19 - Frosted Forests - how DO plants and animals survive winter in the forest? ---This program will be offered as a hike if snow is scarce---
Please note: if temperatures in the program location are forecasted at or below -26°C (with the wind chill), these programs will be cancelled.
Sundays at 1:30pm
The Abominable's Walk
Listen to stories of winter monters around the world as you walk the Ridge Run Trail.
Meet at the Visitor's Centre.
Our Cypress Hills Destination map will help you navigate to all the attractions in Cypress Hills.
View Area Map
Our Insider's Guide is the 
go-to source of what's happening
 in Cypress Hills.
View Insider's Guide
Our Partner Directory provides you direct access to all of our partners.
View Partner Directory