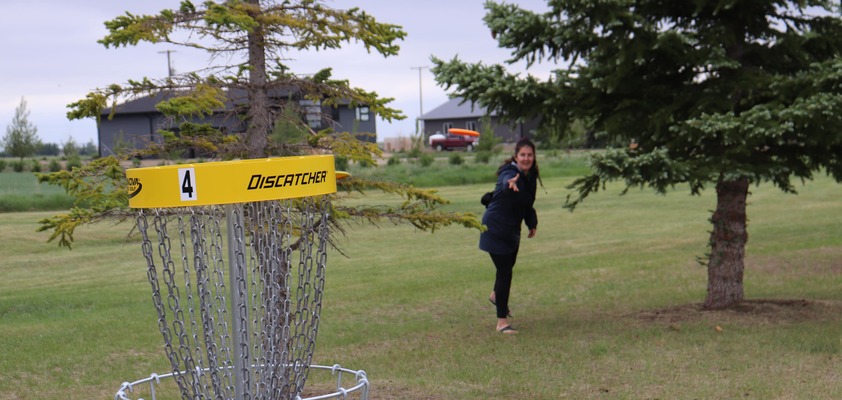 Jun 13, 2021
24 Hours in Gull Lake, SK
By Christine Broderick
"Most people don't think about small towns for a getaway, but this was fun! There's so much to do."
That is what my sister said as we neared the end of our "24 hours in Gull Lake" adventure.
My mom and sister were both very impressed by Campbell's Accommodations, the vacation rental home that they stayed in. They tried to talk me into joining them, but I was excited to finally spend a night in my camper van at the Gull Lake Campground.
My mini vacation started a few hours before theirs. After hiding out from the rain for a bit, I logged into my geocaching app to do some treasure hunting. I then drove to some of the stops of the audio tour that you can find on the TripVia Tours App. I love that the town not only has the audio tour, but they have an information placard on the side of many buildings to tell you interesting historical facts.
The original plan had been to go mini golfing at Kinette Korner Mini Golf, but the rain had me searching for a back up plan.
With a quick call, I had the bowling lanes booked. They are located in the Recreation Complex. When my family arrived in town, we had a quick appetizer platter from Last Chance Bar and Grill and then hit the lanes. We had a great time laughing and trying to get at least one strike!
The next morning we hit the Kiaskus Trail, a 5km loop around Gull Lake. The path takes you through streets, treed areas, and prairies. We saw locals out enjoying the trail and quickly pointed out how friendly everyone was.
The Lyceum Theatre was our next stop. It has been closed to due to Covid, but lucky for you, it will be opening back up on June 24th. Cole, the manager, was a great tour guide and told us about how they survive as a non-profit. We were impressed that they run shows six days a week! Of course, we had to have a bag of popcorn n before leaving. We all agreed that we will make a trip back to Gull Lake just to watch a movie in this theatre.
The new nine hole disc golf course was next on our list. We stopped at the Town Office to grab our discs. Did you know that you can borrow the disc golf sets for free? Each person gets a bag with 3 different frisbees in it. Of course, we hadn't done our research, so we had to use trial and error to figure out the best strategy.
If bowling had us laughing, disc golf had us keeling over. I am pretty sure we set some records for how many trees we hit. We all agreed that we did make progress by the end of the 9 holes! The course is located out at the ball diamonds and the trees, wind, and neighborhood cat made for a fun time.
With time to kill before the market, we enjoyed a drive up and down each street in town. Gull Lake is a beautiful community with lots of beautiful houses and yards.
On market days, the Gull Lake History Committee opens Wong Guy Show Shop. A step through the door takes you back in time. We enjoyed looking through all of the old shoe repair tools and materials.
We ended our 24 hours in Gull Lake with a quick wander through the market. They had the whole street blocked off and vendors were spread out to allow for social distancing. I bought some bath salts and some farm fresh eggs to take home.
We packed a lot into our 24 hours and still didn't take in everything Gull Lake has to offer. That just means I will have to go back!
For more information on the Town of Gull Lake, visit their website.
( I will be adding photos of my trip to our gallery, which can be found here.)
Bringing you
quality tourism experiences
Cypress Hills Interprovincial Park is a unique and ruggedly beautiful area, with forests, fields, and streams to enjoy activities like camping, hiking, fly fishing, or just relax.
The park is also a Dark-Sky Preserve – one of the largest in North America making it the best place for watching the night sky.