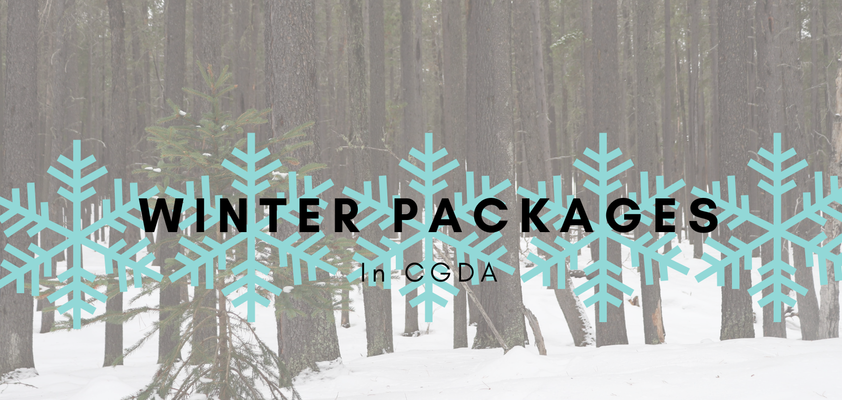 Jan 18, 2022
5 Winter Packages in CGDA
By Christine Broderick
We are part way through the long cold season, and you may be looking to mix up your routine a bit. Our partners have 5 great packages that can help you embrace the rest of winter by getting cozy, enjoying the outdoors, and eating some delicious food.
1) Cowboy Comfort Romance Package at Reesor Ranch
It doesn't need to be Valentine's Day to book a romantic getaway, but this would make an amazing gift to give that someone special!
Spend a warm, wintry weekend cuddled up in one of Reesor Ranch's cozy cabins. Enjoy relaxing in the Cowboy's Cabin or Bunkhouse while indulging in the special gift basket that awaits you, complete with a bottle of Cypress Hills Vineyard & Winery wine. Unwind in the two-person jacuzzi tub and, after a great night's sleep, indulge in a hearty cowboy breakfast, with all the ingredients supplied for you to prepare in your cabin.
Go here for more information and to book this package.
2) Winter in The Hills
This package includes a cozy 2-night stay at The Nest Guesthouse in Maple Creek, just 20 minutes from Cypress Hills Interprovincial Park. You will be welcomed by a refreshment from Rafter R Brewing, Maple Creek's own craft brewery. Add an optional visit to the Brewery and dinner on your own at one of Maple Creek's unique culinary experiences.
Breakfast will be at The Daily Grind, a locally owned coffee house and café. The Daily Grind roasts their own beans to create a taste you won't forget. After breakfast grab your London Fog or Latte for the drive down to Cypress Hills Interprovincial Park. A day pass is included in the package. You'll also enjoy a wonderful box lunch provided by The Daily Grind to enjoy in the great outdoors as you take advantage of the beautiful trails and viewpoints.
Go here for more information and to book this package.
3) Southern Foodie Package
Book the Southern Foodie Package at Wood River Inn & Studio in Lafleche, Saskatchewan. Stay for one night in this beautiful Inn and enjoy a unique dining experience at Trigo. The menu changes every few months and French is the current theme. Your stay at the Inn will include a locally sourced box of chocolates and a homemade breakfast.
Book at least one week in advance, for a Friday or Saturday night, and the Wood River Inn will make a reservation at Trigo for you. This package gives you a 10% discount on food and drink for your unique dining experience.
Spend some time exploring the area, including the French community of Gravelbourg and the nearby Thompson Lake Regional Park.
To book, call
(306) 552-8269
explore@woodriverinn.ca
4) Ski, Stay, and Play
What is better after a long day on the slopes than only driving a short distance to stay overnight in a cozy resort? Hidden Valley, in Elkwater, AB, is now open and Elkwater Lake Lodge has a Ski, Stay & Play package for you to take advantage of. The deal includes 1 adult lift ticket, 1 nights stay, and 1 breakfast at Buglers Dining Room.
Will you choose skis or a snowboard?
Go here for more information and to book this package.
5) The Rockin' Horse/ Krew's Gym Package
Balance is important in life and this package is perfect for that!
When you commit to a 6 month or 1 year membership to Krew's Gym in Maple Creek, you get a $25 or $50 gift certificate to The Rockin Horse Cookhouse & Market. There are also deals for couples and the packages come with a discount on tanning at Fringe Beauty Bar and free studio classes based on what package you choose. Enjoy a good work out, get tanned and ready for summer, and treat yourself to a delicious meal from the Rockin Horse.
Bringing you
quality tourism experiences
Cypress Hills Interprovincial Park is a unique and ruggedly beautiful area, with forests, fields, and streams to enjoy activities like camping, hiking, fly fishing, or just relax.
The park is also a Dark-Sky Preserve – one of the largest in North America making it the best place for watching the night sky.