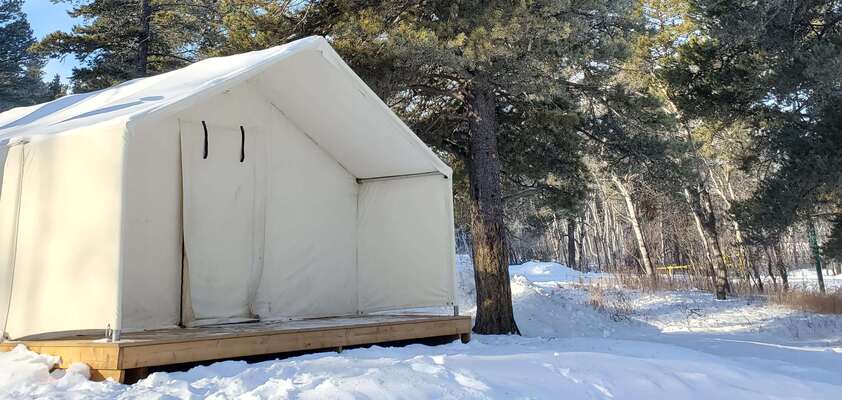 Dec 21, 2021
A Winter Camping Adventure in Cypress Hills
By Christine Broderick
Winter.
Most of us have a love hate relationship with the season.
One thing I have realized is that winter will be as great as you decide to make it.
This year, I finally tried winter camping for the first time. No, not in an actual tent, but in one of SaskParks' camp-easy tents. I wasn't sure what to expect, but called up a friend to join me in discovering what these new camp-easy tents were all about and to help me embrace winter.
After some dining and shopping in Maple Creek, we made our way out to the centre block of the park. It was cold and the lady at the check in desk chuckled and said we were the only reservation. We hung our park pass on the mirror and headed for Terrace Campground.
We were all smiles as we pulled up to the canvas tent and stepped inside.
It was FREEZING!
We looked at eachother and my friend took about 2 seconds to say that we should just stay at the resort. I wondered what I had gotten us into, but wasn't ready to give up quite yet.
Thankfully, a box of chopped logs was waiting for us and after fumbling with cold fingers, we got the wood stove burning. It surprised us both how fast the canvas tent heated up.
Phew, I thought!
The 2 of us not only just survived two nights in the camp-easy tents, but we actually really enjoyed our experience. The tents come with 6 cots, some of which are stacked bunkbed style. There is a table, an electric heater, chairs, and a propane stove.
We had come prepared with a pile of blankets and sleeping bags, layers of clothing, dishes, and a coffee perk. . We burnt throught the rubbermaid tub of wood pretty fast, thanks to the frigid temperatures, but luckily the wood pile was just a short drive away for us to refill and prepare for the second night.
There are lots of things to do in Cypress Hills during the winter. We thought about snowshoeing and cross country skiing, but ended up just enjoying a nice hike through the trees. It was mid-week, so the guided hikes were not running, but be sure to check them out if you go on a weekend. There is also a luge and toboggan hill and a designated snowmobile area.
Sometimes a winter getaway just means relaxing around a fire, sipping hot drinks, and catching up with friends. Life gets so crazy busy and I know that my super-mom, corporate living, masters-taking friend deserved a restlfull escape.
We enjoyed left over pizza from The Rockin Horse, my mom's homemade chilli, roasted smokies in the wood stove, and just settled into the warmth and peacefulness of the tents.
Maybe next time we will hit up the toboggan hill!
For more information and to reserve your stay in a camp easy tent, visit SaskParks reservation site.
Bringing you
quality tourism experiences
Cypress Hills Interprovincial Park is a unique and ruggedly beautiful area, with forests, fields, and streams to enjoy activities like camping, hiking, fly fishing, or just relax.
The park is also a Dark-Sky Preserve – one of the largest in North America making it the best place for watching the night sky.