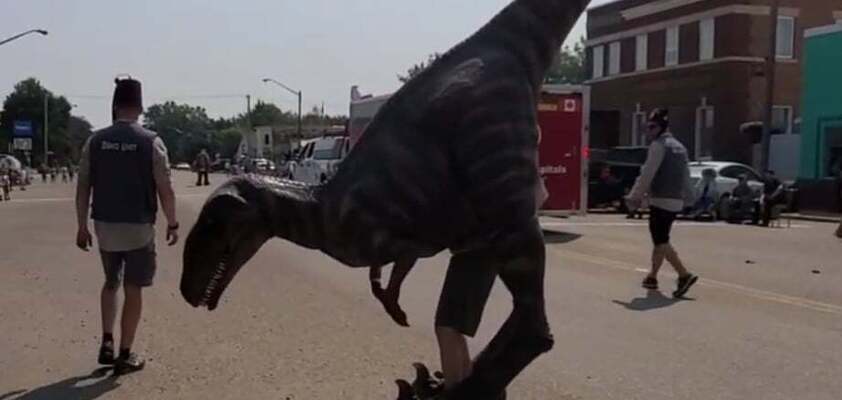 Jul 26, 2021
Dino Days a Huge Success
By Christine Broderick
Locals and visitors enjoyed a weekend of fun in Eastend, Saskatchewan, as they took in the events of the town's Dino Days. Event planning has been difficult this past year and a half, but the weekend was a huge success.
An impressive fireworks display kicked off the weekend. The crowd was awed by the lightshow and the organizers were thankful for the volunteer firefighters and water trucks who took time to drench the area and stand by on safety duty.
A parade on Saturday morning showed off local businesses, a steam locomotive, horseback riders, fancy vehicles, and more. A couple of realistic T-Rexes made for some nervous, but amazed, youngsters.
The Town Square was bustling with people. The area was set up with a bouncy castle, live animals, food and craft vendors, and live entertainment. Rafter R Brewing Company was set up with ice cold craft beer and we noticed quite a few red solo cups in the audience.
The T-Rex Discovery Centre saw a lot of action over the weekend. Along with their regular activities and interactive displays, they held a dino egg hunt and a movie matinee. Kids and adults all enjoyed visiting Scotty and some may have realized that the gentleman who discovered Scotty was actually there working with fossils. It was the 30th anniversary of that amazing discovery.
The Eastend Historical Museum held their grand opening of the new building and it was packed full of visitors. The Billy Bock Quartet performed for an enthusiastic crowd. Their set was all music that told stories of Eastend and the surrounding area and it brought smiles to everyone's faces.
Later Saturday evening, a homerun derby was held in the ball park and a BBQ and beer gardens was enjoyed into the night.
On Sunday morning, a light horse show was held at the rodeo grounds. it was great to see the young kids out performing for the first time.
Congrats to the town of Eastend for an enjoyable weekend.
Stay tuned for next year as more events pick back up.
Bringing you
quality tourism experiences
Cypress Hills Interprovincial Park is a unique and ruggedly beautiful area, with forests, fields, and streams to enjoy activities like camping, hiking, fly fishing, or just relax.
The park is also a Dark-Sky Preserve – one of the largest in North America making it the best place for watching the night sky.