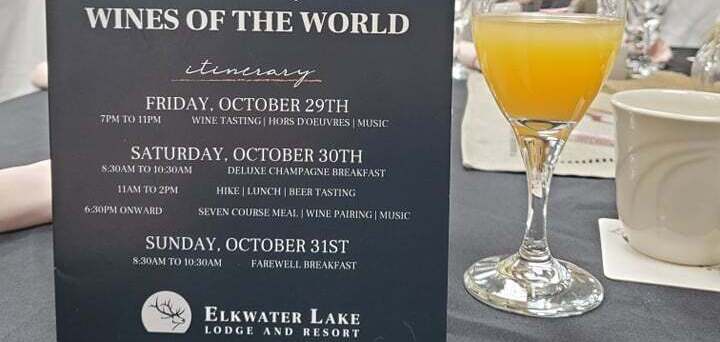 Nov 5, 2021
Wine in the Hills 2021
By Christine Broderick
Wine in the Hills 2021 was a success!
Each year, Elkwater Lake Lodge and Resort hosts a fantastic event focused around food, wine, and entertainment. This year's festival sold out fast, and for good reason.
The Chef in charge of Friday's appetizers, Saturday's champagne breakfast and that night's seven course dinner, was Garrett Thienes from Shaunavon's award winning Harvest Eatery. His hors d'oeuvres had people coming back for seconds and thirds and created a deeper excitement for the main event the following day.
Andrew Hilton Wines, out of Lethbridge, was back and Kyle and Chris shared their knowledge and passion for wine with the crowd while Rob Hudec entertained them with his musical talent.
The first snowfall of the season created a winter wonderland and after a delicious champagne breakfast, visitors went for a hike through the snow filled forest.
Next, was lunch. A last-minute change in venues had guests braving the cold to eat teriyaki chicken tacos and to sip some ice-cold beer from Medicine Hat Brewing Co. Luckily, it was near the lodge, so there was the option to take the food back to their cozy rooms. Everyone agreed that the tacos were fantastic. Thanks, Buglers Lounge!
With a few hours free to explore or to rest, guests prepared for the main event.
Each dish was served with a wine chosen by the experts to pair perfectly with the menu items. Of course, all they had was description of the food, so it was fun to hear the wine enthusiasts discuss what worked or didn't with the chosen pairings. It really is like a strategic game and listening to the thought process behind the pairings is very interesting. They did a great job!
Chef Garrett treated the crowd to Lobster Bisque, Beet Salad, Bison Carpaccio, Pork Belly Burnt End, Cherrywood Smoked Duck Breast, Beef Tenderloin, and the best Crème Brulee I have ever tasted. Seriously, it was made with white chocolate, Irish Cream, and Espresso Ganache.
That night's entertainment was a trio called Rosetown and everyone enjoyed socializing and talking about all the fabulous food they had just eaten.
It is great to visit with returning guests and to see groups, couples, and families enjoying the food and festivities. Start gathering your group for Wine in the Hills 2022.
Bringing you
quality tourism experiences
Cypress Hills Interprovincial Park is a unique and ruggedly beautiful area, with forests, fields, and streams to enjoy activities like camping, hiking, fly fishing, or just relax.
The park is also a Dark-Sky Preserve – one of the largest in North America making it the best place for watching the night sky.