Cypress Hills Interprovincial Park - Saskatchewan
Cypress Hills Interprovincial Park - Saskatchewan
Cypress Hills Interprovincial Park Saskatchewan (CHIPP Sask.) is open and beautiful year-round. Fall & Winter camping (no water or electrical services – pit toilets) are available to the adventurous from October to early May each year. Snow transforms the park into a winter wonderland!
Winter activities at CHIPP Sask. include: Cross Country Ski Trails, Snowshoe Trails, Winter Warm-Up Shacks, Winter Picnic Shelter, Toboggan Hill, Mini-Luge Snow Slide, Winter Walks, Winter Fat Biking Trails, Snowmobile Area, Winter Camp-Easy Tent Rentals, and Winter Events & Programs. For more information on "Winter in the Hills" as CHIPP Sask., please call (306) 662-5411. Year-round vehicle entry passes required.
What is a camp-easy tent?
The camp-easy tents in Cypress Hills are large rectangular canvas tents. They have some insulation and have a wood stove to keep you warm. There are 4 cots and 1 queen sized bed, a table, chairs, propane stove, wood, and an axe. Bring your own blankets!
Here is a blog about our stay in a camp-easy tent in Cypress Hills. ( Note that there have been a few updates to the tents since their first year)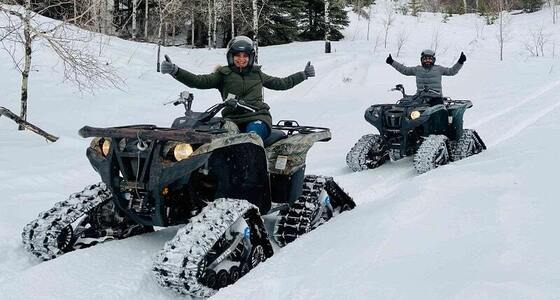 Winter at Reesor Ranch
Historic Reesor Ranch
Cozy up in a cabin after experiencing all sorts of winter activities at the Historic Reesor Ranch. Enjoy cross country skiing, snowshoeing, tobogganning, and guided ATV tours.
Did you know they have
5 Automatic ATV's with snow tracks for rent for Guided tours.
5 seats in Viking Yamaha Side x Side and 3 seats in Gator Side x Side.
The unique winter ATV tours are the perfect way to see the ranch and enjoy the snow.
Our Cypress Hills Destination map will help you navigate to all the attractions in Cypress Hills.
View Area Map
Our Insider's Guide is the 
go-to source of what's happening
 in Cypress Hills.
View Insider's Guide
Our Partner Directory provides you direct access to all of our partners.
View Partner Directory