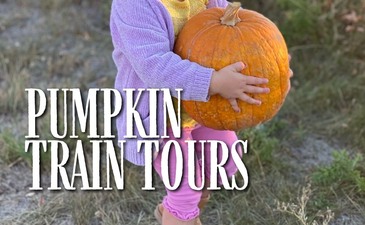 October 14, 2022 – October 30, 2022
Pumpkin Train Tour
Grotto Gardens Family Fun Farm
Maple Creek
Dates: October 14-16, 21-23, 28-30
Times: 12pm, 1pm, 2pm
Max. 24 people per train ride.
$8/Person, No Pumpkin | $15/Person, 1 Pumpkin
Enjoy the changing of the seasons with a Fall tour of the farm aboard our popular Farm Train. Come for just a ride, or bundle your experience with a pumpkin from our Pumpkin Field. Our bakery and restaurant are open. If you would like to make it a day trip – petting zoo open by donation.
The tour winds around the animal pastures, through the berry orchard, around the perennial gardens, flower displays and past the other farm animals who make their home at Grotto Gardens. All with special surprises and education opportunities to be found along the way. These will include interactions with the sheep, larger nubian goats, miniature donkeys and the alpacas.
There will be an opportunity to stop and feed the farm animals along the way. We highly recommend you purchase a bag of animal food for $2.00 in the gift shop, as it's very interactive for the kids.
Our pink train cart is wheelchair accessible.
Our Cypress Hills Destination map will help you navigate to all the attractions in Cypress Hills.
View Area Map
Our Insider's Guide is the 
go-to source of what's happening
 in Cypress Hills.
View Insider's Guide
Our Partner Directory provides you direct access to all of our partners.
View Partner Directory