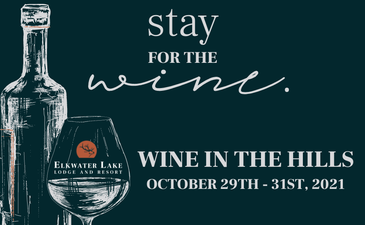 October 29, 2021 – October 31, 2021
Wine in the Hills
Elkwater Lake Lodge
Elkwater, AB
Elkwater Lake Lodge and Resort's annual Wine in the Hills is back!
Enjoy wine tasting, delicious food, and entertainment.
For more information on ticket packages, call 1-403-893-3811
Friday, October 29th
7pm - 11 pm Wine tasting, Hors d'oeuvres, Music
Saturday, October 30th
8:30 am - 10:30am Deluxe Champaigne Breakfast
11am - 2pm Hike, BBQ, Beer tasting
6pm - Onward Seven Course Dinner, Wine Pairing, Music
Sunday, October 31st
8:30am - 10:30 am Farewell Breakfast
Our Cypress Hills Destination map will help you navigate to all the attractions in Cypress Hills.
View Area Map
Our Insider's Guide is the 
go-to source of what's happening
 in Cypress Hills.
View Insider's Guide
Our Partner Directory provides you direct access to all of our partners.
View Partner Directory